The Drakensberg Trails, are a system of community trails in the Northern Drakensberg that is run and maintained by the local lodges, resorts and adventure centre.
Based at All Out Adventures, Drakensberg Trails offers over 100km of exclusive single track in the heart of the spectacular Northern Drakensberg Mountains. We bet you have never had a view of the majestic Amphitheatre, like the one from our trails!
Early morning riders will almost definitively encounter some of our eland, blesbok and zebras on the Blue, Black and Purple trails. Not to mention the beautiful flora on our Red trail, near The Cavern Resort.
Coming to the Northern Drakensberg, a world class riding and trail running experience is literally on your doorstep! Our trail system can be access from several locations, making it very convenient for riders and runners.
Experience the best of riding and trail running in South Africa with:
Secure environment
Reliable colour coded marking
Variety of trails
Spares and repairs available at All Out Adventures Centre, centrally located to the whole trail system
Full suspension Rental bikes available from All Out Adventures Centre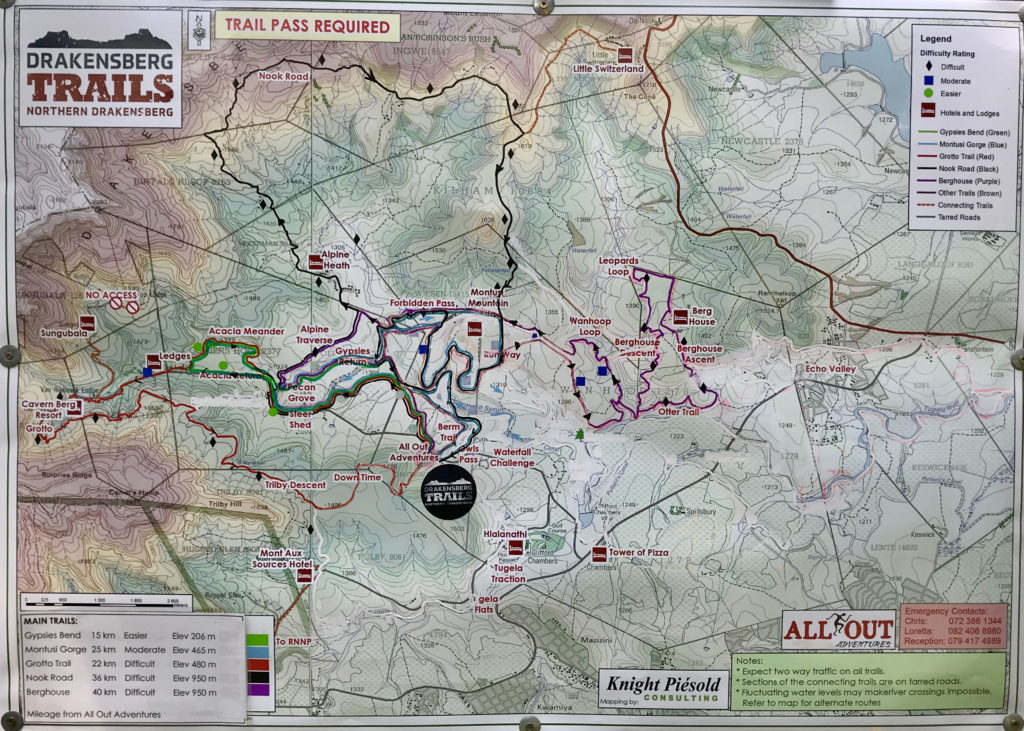 There are 5 main marked routes that are colour coded, and rated for different abilities:
Riders are able to create their own routes using the map