Discover your Extraordinary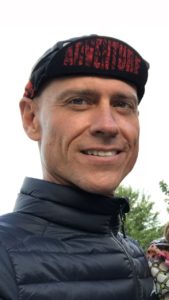 Chris is a born Adventurer and teacher. He believes in discovery, especially in building experiences that help others break through their limiting beliefs to go beyond the status quo. Chris learns fastest when he teaches and has developed a culture of learning and teaching in all that he does. Chris is co-founder and director of All Out Adventurers, Drakensberg Trails, Royal Drak MTB, Run and Ride the Berg Events and spends most of his time learning from and teaching his staff.
Chris's early discoveries centered on exploring his boundless energy and his love of riding bikes. At 8, Chris surprised his family and himself by peddling 160km around his Binghamton NY home. By his 20s, Chris, developed a long distance bike touring system and after graduating university; took off to explore the vast North American seaboard from South Carolina to the Canadian borders of Newfoundland and Labrador. After nearly 10,000 km, he returned to Binghamton NY in 1988, eyes and heart wide open to the fact that it is possible to make a living doing what you love and for Chris that was skiing.
During Chris' 10 years of helping 1000s of students find their dynamic balance on their skis, Chris fulfilled his lifelong dream to master the art of flying through the snow while distinguishing himself as one Skiing Magazines top 100 ski instructors in North America. He also happened to attain PSIA level 3 Alpine and Nordic Down Hill Examiner status.
Moving to South Africa in 1999 and starting his own family, gave Chris the opportunity to bring a new way to recreate in the world. The creation of SA's much loved All Out Adventure Park, gives thousands more the sensation of flying down mountains without the need for snow.
Chris's inspired talks and workshops pack together 30 years of human performance experiences whose chief aim is a world where work is a place of healing and the cure is being paid to play.